OMG! It's March already. Where did the time go? We are amazed by just how much has happened over the past months. But even bigger things are coming! Before completely floating off into the future on our hoverboards, let's check out how 2018 has been at our mothership so far.
The incoming class of 2018
We are always happy to introduce some fresh talent to our team — this time we welcome a skilled graphic designer and a top-notch communications specialist. Marleena and Sanna joined the rest of us Okimonians in January and are already part of the family. This also means that one old-school Okimonian — Sanna — finally has to share her name. Now S1 and S2 have joined the club with our Kalles (K1 and K2) and our Riikkas (R1 and R2).
A gif that keeps on giving
We are extremely excited because something big is on its way! You can literally feel it tingling in the air. But shhh, you have to wait a bit more to hear about it. The only thing we can promise you is that it is going to be E-P-I-C (so stay tuned.)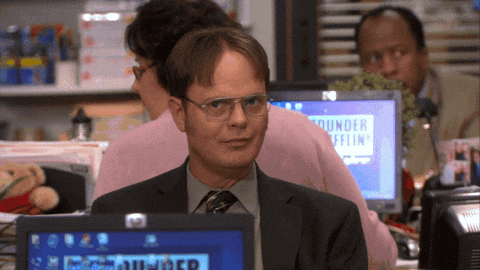 Social media update of the month
Perhaps the biggest news social media of 2018 has been Facebook's attempt to make social media social again. The company announced that it will start highlighting content from friends and family. The average news feed is showing more and more content from them — and less from businesses, brands and media. This also impacts the reach of Pages and businesses. Now, they need to put even more effort into preparing content that will generate meaningful engagement for their audience. For more about the update, see our recent blog post.
Pic or it didn't happen!
Holes in one! Glowing palm trees! And scary-as-hell clowns! Who wouldn't want to spend some quality time on the West Coast course with their co-workers. And that is exactly what we Okimonians did one evening after work — when we visited the spooky yet exotic Glow Golf resort in wintery Hell-sinki.
Song of the month
As you might have figured out from our recent blog posts, we are really, really into superheroes. Tight spandex suits, fluttering capes and awesome super powers — yes please. Batman, Thor, Spiderman — we admire them all.
By day, Okimo is filled with talented communications specialists, but you might just spot them in their superhero costumes at night.
You can get some inspiration for how we deal with everyday work from this song from Marvel's 2018 box-office-hit Black Panther.
Would you like to receive the latest news from Okimo Clinic? Subscribe to our monthly newsletter by clicking here.