OMG! It's 2018. Can you believe it? Before fully jumping into the new year, let's have one last look at the final month of 2017. Here are a few of our favourite "Oh-My-Goodness" moments from December.
OkiGo Adventures / The best day(s) of the month
Okimonians wrapped up 2017 in the most exciting way. We packed our bags and travelled to the magical city of Budapest. Between internal workshops, we had some time to see the city, enjoy delicious dinners, drink some glühwein in local Christmas markets and hang out at the famous ruin pubs.
As with any good trip, we also had some thrilling moments — the one and only snowstorm of December 2017 happened to hit Helsinki on the day of our departure. But not even the biggest blizzard could stop our adventure. And after sitting on the tarmac longer than the duration of the scheduled flight, we finally kicked off our annual OkiGo.
Pic or didn't happen / Topic of the month
New year, new office space! Just before Christmas, we redecorated our office lounge a bit. It has quickly become one of our favourite spots, with its comfy sofa sets and cosy yet elegant feeling. You can most definitely spot a few Okimonians there at any time of the day working, having a casual meeting or enjoying their lunch.
This re-decoration also brought up the topic of the month. There is an ongoing debate in the MCP family about the pink see-through curtains dividing the area, and what they remind us of — everything from a cool night club vibe to granny's old pantyhose has been brought up. What do you think? Come check it out and share your take on it!
A GIF that keeps on giving
On the last days before the Holidays, our Senior Consultant and Head of PR Sami Stormbom had the weirdest "Stranger Things" moment on his way to work on a dark winter morning. While walking in the street, two things happened at the same time: a "swoosh" sound came from the radio station he was listening to — and at that exact moment, the street lights shut off, darkening the street.
For the sake of Okimo Clinic sales, we were relieved he was not transported to The Upside Down and is able to continue his tremendous work in 2018.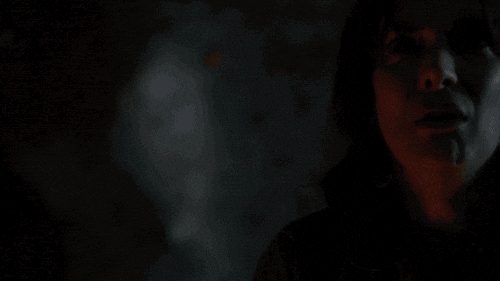 Social media update of the month
"Like if you love dogs!" — Facebook announced in December that it will start to demote so-called "engagement bait posts". Now, if a post goads users into taking actions like sharing, tagging, liking, or commenting, it will be shown less in users' News Feeds. This is the newest tweak Facebook has made to its algorithm to foster more authentic engagement and fight both fake news and clickbait.
Lessons learned / A bit of research
We were so excited about 2018, that we decided to hand out some New Year's gifts to our clients and partners. Of course, we also made sure to order some copies of our own — these books should give us even more drive to kick-off 2018 like no year before.
Song of the month
It is no secret Okimonians love learning new things. Because of our slightly nerdy tendencies, which you have probably already noticed, we were more than excited to hear new music from N.E.R.D. — let's just say that the group's name speaks to us. Better yet, the energy of this song was just right for the turn of the year. We have been boosting the song during our Friday beers, pre- and post-holiday.
The song's title also offers a great philosophy: Like any good agency, when someone gives us lemons, we make lemonade.
Would you like to receive the latest news from Okimo Clinic? Subscribe to our monthly newsletter by clicking here.